Posted By drsao on April 15, 2013
Happy 17th Birthday
Leanna Ruth Epps
April 16, 2013
My e-mail isn't treating pictures nice – you see
so my blog is where your birthday greeting  is to be!
You started out as a blue-eyed doll – is that chocolate on your face?
But now you eat chocolate with style and grace!
Here are a few highlights of your past year at age 16
On the way to see  LES MIS you were the generation in between!
You got new glasses and lo and behold
Yours and Poppa's glasses look alike – let this story be told!
With or without glasses – you are a pretty sight
And I dearly love you with all my might!
Even though you were on the opposide side on the SUPERBOWL GAME
Your team won and mine was lame!
We really had fun all year – it is true
but at Christmas time, it is special – when we are with you!
At Thanksgiving time Poppa set the oven on fire – WHEW WHEW!
We cooked across the street – and that was fun too!
You dressed like a maid in your High School musical play
And a pretty one at that, if I might say!
Now speaking of pretty – this next picture is quite a sight
Your Halloween job had you dressing like a FRIGHT!
On Halloween night you looked very striking – and in plain view
Where's WALDO, we say – and then we look right at you!
This is one of my favorite pictures on the first day of school
You started your junior year – Sarah in 7th grade – both of you very cool!
Speaking of looking cool – how about being covered in pink and blue
This is after the COLOR ME RAD 5K – and under that color is you!
Remember when you came home from your trip and the house was all rearranged
Leave Grandma Shirley alone and the house becomes SORTED, PAINTED AND DERANGED!
When cousins James and Shirley visited – we had lots of fun
This is our GRANDMA'S DAY OUT GIRL PHOTO – and it was great for everyone!
Do you remember when you had your very first roller coaster ride
with Cooper on Verbolten – just look at your faces full of pride!
Mother's Day was another fun time – is it all the rage?
To have a 3 generation picture taken in a garden type cage?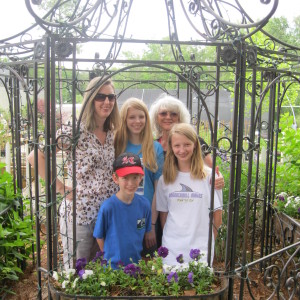 Can you believe it has been a whole year
since you turned 16….just look at you here!
You can't deny that we didn't dress for the season
On March 17 – look – we wore green for a reason!
In this family we like to celebrate big – just look at that cake
Wonder what kind of  smoke ALL those candles will make!
One thing special happened this year
Tyler met Ruby – look at the smiles here!
I hope your 17th  birthday is fabulous you see
And know that forever, my adorable grandangel you will be!
I love you,
Grandma Shirley