Posted By drsao on May 6, 2016
Mothers' Day is almost here and it seems like a good time to reflect on mothers everywhere – what would we do without them? Mothers can get their title because of a biological link – or they can get their title because of a psychological and emotional link. Many mothers have human children and many mothers have pet children and SOME of us have both varieties. I wanted to feature SOME of my family mothers in my immediate branch of the family tree in honor of this special day of celebration.
I will start with my grandmothers who were so important to me. Grandma Albertson, my daddy's mother, taught me to use a needle and a thimble.
She taught me to hand piece my first quilt.  She cut out all of the pieces and set it together but I sewed the nine-patches together.
Grandma Eleanor Reiter, my mother's stepmother, was my role model for successful aging.  She was young at heart, a square dancer, and a hiker.  I have great memories of having cookouts in the mountains in Colorado while we were visiting on family vacations.  Grandma Reiter was also a quilter and she designed and cut out some colorful hippos for me so that I could make a quilt!  Hippos were my favorite animal!  The photo is of me, Grandma Reiter, my mother, Marjorie Ruth Albertson, and my daughter, Christi Johnson Epps.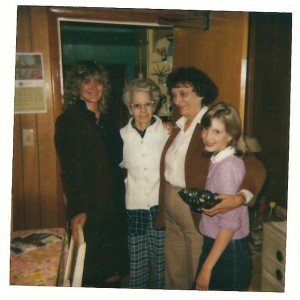 Karen DuMont took my grandma's pattern of hippos and produced a pattern for sale – Grandma Reiter would have been so proud!
Grandma Mamie Elizabeth Hassler was my mother's mother and I loved her dearly.  She taught me to embroider and play dominoes!  I thought that she invented chili macaroni and buttered crackers!  Here she is holding me as a baby.  I wish that I had more photos of her!
Here I am with my mother, Marjorie Ruth Albertson.  Oh my goodness, she was a great seamstress and a super cook – I think these skills must have escaped me, but the memories of her great dishes are engrained in my memory!  She was extremely generous and you had to be careful when you admired something that she had because she would probably just turn right around and give it to you!
Then there is me and my daughter, my daughter-in-love, and my daughters that I received as a gift from my husband.  All in all they have gifted me with 17 grandangels – how lucky am I!
First is Christi – my only biological daughter who gifted me with Leanna, Sarah, and Cooper Epps – my Virginian grandangels.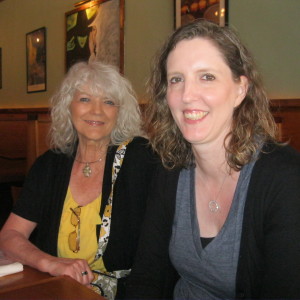 Next is my son's wife and daughter-in-love, Lil who gifted me with FIVE Texan grandangels, Harry, William, Vincent, James, and Shirley Anne.
William is graduating from high school this month – celebration time in Texas!
Jan, is a gift – and I refuse to call her a stepdaughter – she is a dear friend and she gave me SIX grandangels, Brennan, Lacy, Chase, Caden, Collin, and Jannae!  (These six are California grandangels!)
Caden is graduating from UC Berkeley this month – congratulations CADEN!
And I have three more grandangels (all in California) as a gift from Jolee and John (Max's son.)  Blake, Brittany, and Brent.  Brittany is graduating from Cornell this month and Brent is a high school graduate this month!