Posted By drsao on November 30, 2015
Bonnie K Hunter has launched her yearly Quiltville winter mystery 2015 – Allietare! This design is inspired by her recent quilt trip Italy. Allietare means to become cheerful or to gladden – so I am sure this is going to be a good one!
As always I am making two – one to keep and one to gift.  Here are my color choices!  The first photo is of my Christmas Allietare and the second one is my Allietare.  THANKS BONNIE HUNTER FOR THIS WONDERFUL GIFT.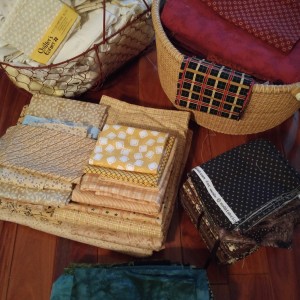 Clue 1 is now finished for my Allietare!  Clue 1 for my Christmas Allietare 1 is cut out but not yet finished.  It will be finished by the time that Clue 2 comes out Friday!
To see what other quilters have posted about Clue 1 go to this link!
http://quiltville.blogspot.com/2015/11/mystery-monday-link-up-allietare-part-1.html