Posted By drsao on July 11, 2008
Some of us have accumulated a wealth of fabric – known in the quilty world as our stash.  STASHBUSTER GROUPS are abundant in the online world of quilters trying to control their artistic impulses (aka buying fabric habit.)  Here is a new way to use up that collection…..invite in three wannabe fashion designers and have a DESIGNER PARTY FOR WEBKINZ RUNWAY FASHIONS.
First meet Kenzie and her WEBKINZ Frog – Freckles, dressed in an Asian print sundress with HOT PINK straps!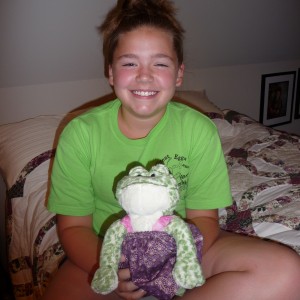 Sarah designed a wonderful multi-piece fashion statement for her WEBKINZ puppy – PRINCESS and her WEBKINZ Kitty – Meredith (all in hot pink batiks.)   Leanna made a sleeping bag for her WEBKINZ Lion – Rory – and a wonderful designer sundress for her WEBKINZ Monkey – Bonnie.  Most of the MODELS ended up wearing HOT PINK – must be the WEBKINZ design fav.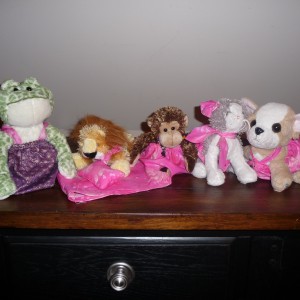 TA DA – Stashbusting can be LOTS OF FUN!  Oreo CHIPPIE Cookie was delighted to find that a fabric container had been emptied…….and as cats often do, she had to check it out!
QUILTY SHOW AND TELL – QUILTER'S CORNER – BIRTH OF A SAMPLER CLASS
I was doing the happy dance while sharing my finished Birth of a Sampler Flimsy during class at QUILTER'S CORNER.  Here it is being held by Susan (she chose the Vintage Holiday fabric for me) and the quilt designer and teacher of the class, Sherry Whitford.  I am SO HAPPY TO SAY that this quilt – complete with 10 yards of fabric for the back – is ready for the LONG ARM process!
And my sincere APOLOGIES go to Nancy (fellow class mate and fabric consultant at QUILTER'S CORNER) for cutting her head off in this photo….sigh.  Her BIRTH OF A SAMPLER FLIMSY is so beautiful that I really just had to include it here – even with headless Nancy!
SWEETHEART QUILT
While I was at QUILTER'S CORNER I took a picture of the second quilt designed by Susan in the COZY QUILT SERIES.  I made the shop sample and I was so excited to see it hanging on the wall – it is available as a kit at the shop!  This is the SWEETHEART QUILT!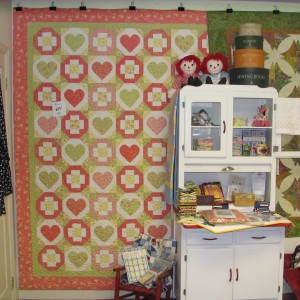 BEACH RETREAT QUILT
The first quilt that Susan designed for the COZY QUILT SERIES was BEACH RETREAT – and since I tested this pattern (and made a quilt just like this one) I just had to take a picture of it in the shop.  BEACH RETREAT is also availabe as a kit at QUILTER'S CORNER.
Shirley Anne's Cotton Candy Snowball Quilt
I am so excited — this week I finished this quilt top (that I started in September 07 – but better late than never!)  This is the first scrappy quilt that I made entirely from STASH that I had on hand – no new fabric was purchased in the process of making this quilt.
I combined the snowball block with the nine-patch – and voila.  I really like the soft pinks, blues and yellows – and it reminded me of COTTON CANDY – hence the name (oh yes, my name is Shirley Anne.)  🙂
I took a close up picture of the border.  I saved the corners from the SNOWBALL BLOCKS and put four together to make MINI SNOWBALL BLOCKS.  I alternated the mini-snowball block with pink fabric blocks (with the exception of two snowball blocks sewn together in the center on the sides ) to make the border.  It was REALLY satisfying to be able to use these little corners that I used to throw into the scrap heap for ZANGIE CREATIONS.
Now in the tradition of making a quilt TOTALLY FROM STASH – I made the back of Shirley Anne's Cotton Candy Snowball Quilt from 15 1/2″ square blocks with an outside border.  TA DA……I finished that today too.  It is a good feeling to get another UFO off my list (well almost – it still needs to get quilted and the binding put on – but somehow I FEEL like I have finished it at this point!)