Posted By drsao on July 17, 2008
Dear Jane Quilt (Progress Report)
I am really having fun making these Dear Jane blocks and I love the names that have been given to them.  Here is my A8  Florence Nightingale
- one more done and 50,000 more to go. 

  Not really, it just seems like it!
First – my red and white A8 practice block -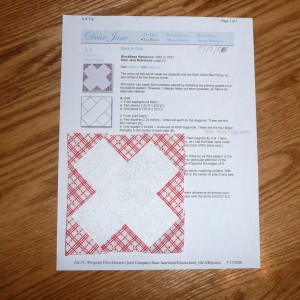 and then the real block….LOL
This isn't a great picture – but it is of my FIRST BORDER TRIANGLE BLOCK – BR1 Rosemary's Window  (the red and white is the practice block.)  I think paper piecing is a lot of fun!
I have learned to scan my blocks and put them into the EQ Dear Jane Project Chart – too much fun!  I now have 8 blocks finished (times 2 so that makes a total of 16 Dear Jane blocks!)
EGG MONEY QUILT
The first EGG MONEY QUILT (Eleanor Burns) class is the 20th (taught by Susan at QUILTER'S CORNER.)  I am really looking forward to it: however, I just realized that I am going to miss the SECOND CLASS because I will be in CALIFORNIA.  So today I went ahead and made block # 3 - TURKEY TRACKS that will be part of the 2nd class.  I love these 30′s fabrics…….and this was a new experience to make Y seams!  I am so happy that I got this made….it wasn't that difficult…..and my little points all seemed to come together as planned in the middle!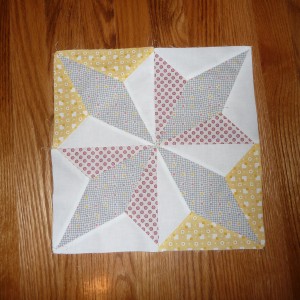 ORANGE CRUSH MYSTERY QUILT QUILTED
I picked up my Bonnie Hunter Orange Crush Mystery Quilt from my long arm quilter, Sara Parrish, today!  I love it.  She did a fabulous job and I took her picture – but her eyes were closed – so I am not going to put her picture up here.   Here is my OC on the rack just waiting for me to pick it up!
HERE IS THE BACK OF THE OC – it is ready for the orange binding!  I really am starting to like this scrappy back!
GPS TECHNOLOGY
For years I have been getting lost and for years I have been calling my daughter to FIND ME while I am lost.  NOT ANYMORE.  I got a GPS – a GARMIN NUVI and oh is this ever fun.  I can watch myself driving along the road on the little screen - just like a video game.  When I stop – the little car on the screen stops.  It is just amazing.  When I make a mistake it recalculates and tells me how to get myself out of my "STATE OF LOSTNESS."  I LOVE IT.  I really do.  It is pretty amazing that his little screen can TALK TO YOU and tell you you have .2 more miles to your next turn, etc.   I will never be lost again…..hopefully! 

:) 
THE GPS IS NOW ON MY LIST OF FAVORITE THINGS!