Posted By drsao on August 11, 2012
Catherine and I had three REMARKABLE Sew Sew Days – as I usually call them.  Although NOT a lot of sewing was happening this time so I have called this our SEW SEW PAINT DAYS.  
I have mentioned before that when Catherine and I went to THE EMPTY NEST in Warrenton, VA a few weeks ago,  I got some Annie Sloan Chalk Paint – and I have been SO LOOKING FORWARD to trying my hand at this wonder paint!  I had to wait for my CREATIVE COACH, Catherine,  and boy was I glad that I waited!  She told me exactly what to do because she had taken the class taught by Janet – who owns The Empty Nest.     As would be expected, Catherine had GREAT IDEAS and a few days of fun have turned into a bit of a HOME RENOVATION PROJECT!
For days I have been trying to decide what to paint.  I took pictures of possibilities….  would it be a rocking chair, double crate THINGIE, bookcase, or antique milk can?   I took pictures of several things but my LIST of POSSIBILITIES kept growing instead of narrowing down into THE CHOICE!  I kind of wanted to restore the poor milk can that REALLY needed some help.  Here are pictures of the FOUR TOP POSSIBILITIES.
Since the milk can needed some prior treatment before painting – I decided to start with the rocking chair – I could just SEE my beautiful new RED ROCKING CHAIR in my mind's eye!
BUT…..the creative Catherine had a brilliant idea.  Why not paint JUST THE SEAT and THE TOP of the rocking chair with GRAPHITE and then use SOFT WAX to let the wood shine through.  WOW….good idea!  To quote Catherine……"ANYONE could just paint the entire chair red!"  That ANYONE could have been ME if it had not been for Catherine's creative touch.
I had on a shirt splashed with red color – because I thought if I GOT RED PAINT ON ME it would never show.  Well, the graphite didn't show on my shirt either!  :)
Catherine put in piping for the first time ever and it turned out PERFECT!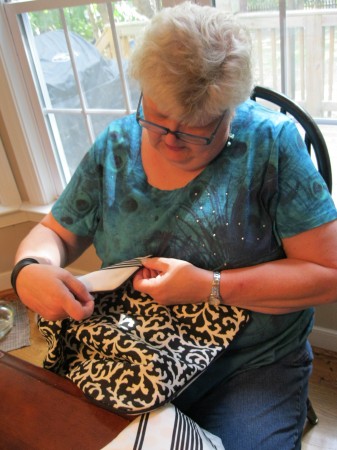 Well, I am having so much fun and am so encouraged by how the rocking chair turned out that I decided to go ahead and transform my Goodwill double crate THINGIE – because I had to use my RED Emporer's Silk Chalk Paint!
Well, let me tell you, that using CHALK PAINT is like eating a potato chip – you can't eat just one.  SO NOW I have the bright idea to do a ROOM MAKEOVER……. my DD and DSIL will be home from a vacation tomorrow – and why not surprise them with something really cool!  SO……Catherine and I launched upon EXTREME ROOM MAKEOVER PLANS.  The bookcase was the next thing to become red.
This is what we did on DAY TWO of our SEW SEW PAINT DAYS!
Catherine – again – was the only one doing some sewing!  She presented me with my CHALLENGE PIECE – for our Richmond Modern Quilt Guild Challenge.  We each had to pick a WORD that represented who we were or wanted to be.  My word was SPANGLE….and here is my beautiful SPANGLE PIECE!
Catherine tried to hide – but I managed to get her in the picture.
On the SECOND DAY – I decided to  paint the MILK CAN.  Since it had been scorched badly in the fire, Catherine suggested that I spray paint it black so I could start with an EVEN SURFACE.  So after a quick trip to Lowes  to get black paint (it might have been Home Depot because I get them confused and never can decide which one I went to)  here is what the milk can transformed into.
I actually woke up a bit stiff this morning after two days of painting and buffing….but a long hot shower had me ready for the THIRD SEW SEW PAINT DAY.  This was the HOME IMPROVEMENT MAKEOVER DAY.    First came the STAGING of the bookcase.
Did you catch that – Catherine STAGED IT – see this is the difference between Catherine *the artist*  and MOI……the regular person.  I would have put books back onto the bookcase.  CATHERINE STAGED IT and turned it into A WORK OF ART!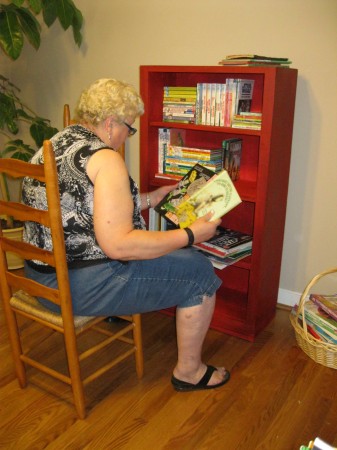 The milk can is in its place…..
The Double Crate THINGIE is holding home gym equipment….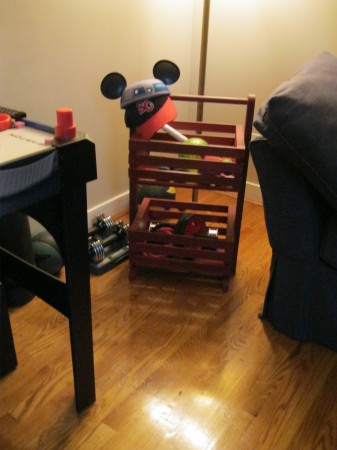 And while we were on a roll – we rehung a few pictures……and stars……and Catherine framed a photograph of Grandangel Leanna that Leanna's  friend took for a high school art project…..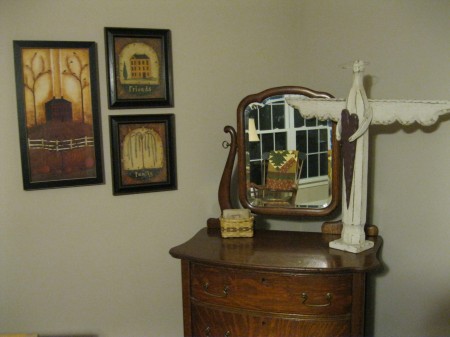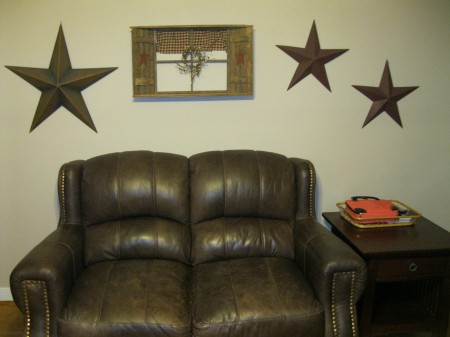 Grandangel Sarah painted this cat in art class – in Kindergarten….I loved it and had to frame it.  It became the INSPIRATION for a cat quilt that I made for her.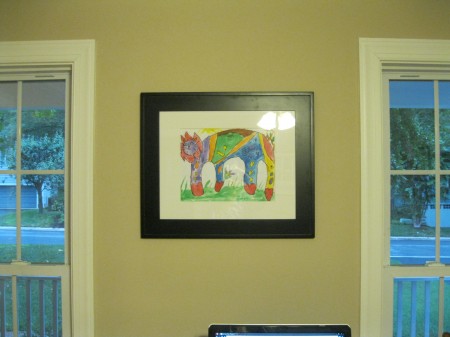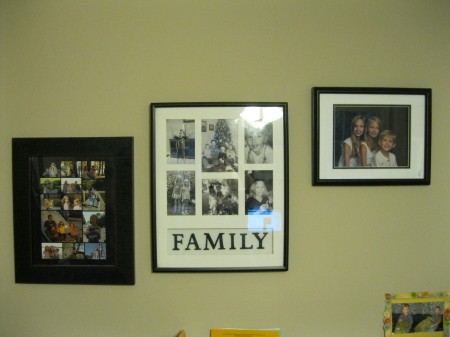 The picture of Grandangel Leanna sitting on a swing is her friend's photographic art project.  I loved the close up of Leanna's face with the chain links of the swing casting a shadow on her face.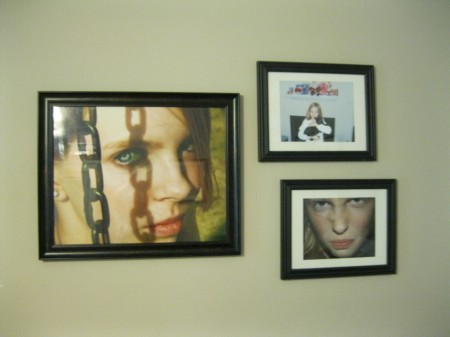 By the way – the Double Crate Thingie, the bookcase and the milk can were all painted from ONE One-Quart CAN of Emporer's Silk Chalk Paint and I still have some left!  Let's see – is there anything else that NEEDS to be painted RED!  LOL.  Did I mention that Annie Sloan Chalk Paint is now on my LIST OF FAVORITE THINGS.  
I can't wait for my family to return from their vacation tomorrow to see what Catherine and I have done!  It is not EVERYONE who gets a HOME MAKEOVER while they are on vacation.  :):)  Catherine says if they never leave me HOME ALONE again, I will know why!
AND…..ta da…..before I say SO LONG and because it is FUN…..here are some before and after chalk paint pictures.
BEFORE
AFTER
AFTER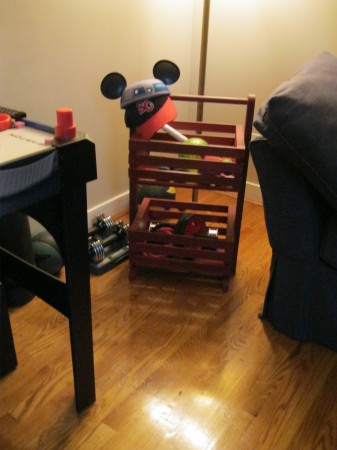 BEFORE
AFTER
BEFORE
AFTER