Posted By drsao on January 7, 2013
Kudos to Bonnie K. Hunter of Quiltville for hosting another great EASY STREET mystery.  I just finished sewing the top together for my Christmas Easy Street.  There are 2,377 pieces in this quilt…LOVE THAT!  
Now I need to decide what to do for borders.  I am thinking about adding a narrow red inner border and then either piano keys or more four-patches (maybe set on point.)  I seem to think I would like more red in the border but who knows what I will decide.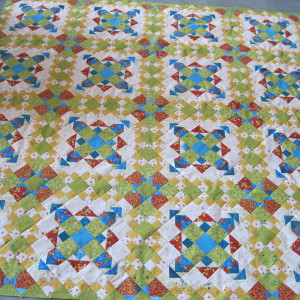 Also on my Design Floor is my FIRST EASY STREET (funny I finished the top for my SECOND one first!)  I made a last minute change in colors…..instead of lime green to go with the purple, white and hot pink…..I have decided to use lavendar.  I haven't  done it yet *hence no pictures – I have just made this decision.  Maybe next week I will have some pictures!  Below are parts using the other three colors.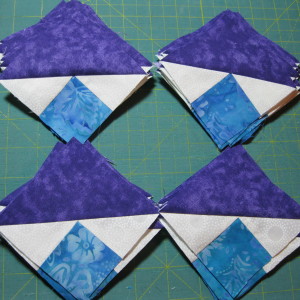 Also on my design floor is the Dorothy Young Christmas 2012 Mystery .. Dashing Bachelor….isn't it sweet?    I need to decide on borders for this too!  It looks like I might not do anything more than DECIDING what to do next on this one because putting together the blocks for Easy Street is going to take ALL WEEK!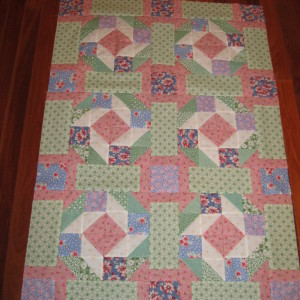 And one more thing.  I just have to say that I have  NEW CATEGORIES of quilts in 2013 that I never had before and it makes me feel FREE.  Instead of one humongous UFO list….I have a list of QUILTS ON HOLD (I am trying to decided if I want to make them afterall) and  another list of QUILTS THAT I WILL NEVER FINISH (yes, ones that didn't make the final process!)  That leaves me free to start the NEWFO list (quilts that I want to make but are only in my head right now.)
I want to make the SCRAPPY AROUND THE WORLD QUILT….for example.  I haven't put it on my NEWFO list yet but I have a feeling it is going to appear on there!  Bonnie Hunter just added a tutorial for it…..hop on over to Quiltville to check it out….doesn't it look like a FUN way to use odds and ends!
http://quiltville.blogspot.com/2005/06/scrappy-trips-around-world.html
Here is one of the photos from Bonnie Hunter's blog….doesn't it make you want to make one?
And then there is this HEXI quilt that I am in love with – also featured on Bonnie's blog……OH MY OH MY….I have to do this!  Hexies are great TAKE-ALONG projects to do while you are visiting or traveling – or waiting in a waiting room!
http://quiltville.blogspot.com/2005/06/scrappy-trips-around-world.html
OK – so before my list grows even more I had better move right along……:)
To see what is on the Design Walls of other quilts – go to Judy Laquidara's blog at Patchwork Times!
http://www.patchworktimes.com/2013/01/07/design-wall-monday-january-7-2013/
AND to see what other EASY STREET QUILTERS are doing check out Bonnie Hunter's LINKY THING!
http://quiltville.blogspot.com/2013/01/mystery-monday-link-up-jan-7th.html