Posted By drsao on May 7, 2012
This week I am pondering over what I shall do with my Vicki Welsh May COLOR PALETTE CHALLENGE 2012 hosted by Judy Laquidara herself.  

Aren't these happy colors?  This candy just makes me want to smile.  Has anyone ever eaten this candy?  I don't think I have – but then I am a chocolate person!
At first I thought that I might make a SWEET TREAT QUILT with Judy and her Sweet Treat Quilt Along……but even though I like the quilt I decided that I need to make something unique!  I still want to make the quilt but will use other colors……….I had better hurry and decide because the quilt along clue 2  is expected today – MAY 7!
I think I will keep with my tradition of combining the FREE MOTION QUILTING CHALLENGE with the COLOR PALETTE CHALLENGE to make my monthly donation quilt to the Alzheimer's Art Quilt Initiative…..so I pulled some fabric and this is my project for the week!
Also on my Design Floor this week is the Free Motion Challenge hosted by Sew Cal Gal!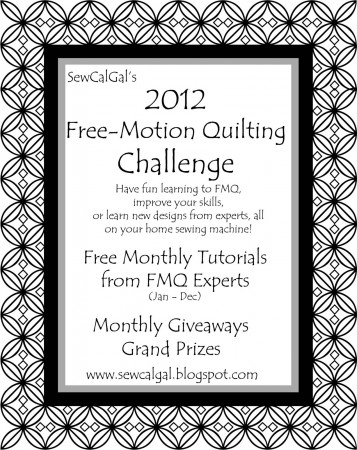 Leah Day is the featured Free Motion Quilting artist for May, 2012.  When I saw her demo I was really encouraged – it LOOKED pretty doable (I am a very new FMQ student.)  She showed us how to do two pretty cute patterns.
So…..I tried it and mine surely isn't as nice as hers……but here it is!
Hop on over to Judy Laquidara's Blog to see what other quilters have on their design walls this week!
http://www.patchworktimes.com/2012/05/07/design-wall-monday-may-7-2012/
And speaking of Judy Laquidara (AGAIN) I am so excited because I won the new 100 Blocks Quiltmaker's Book from Judy….can't wait to get it! HAPPY DANCE!