Posted By drsao on May 18, 2012
I am going to CAMP LOOPY again this year.   I never cease to be amazed at how a VIRTUAL KNITTING CAMP can be SO EXCITING – make that exhilarating!  Seriously, I am looking forward to it.  If you are a knitter and want to go to CAMP LOOPY……..here is the link…..
http://www.theloopyewe.com/sheri/2012/05/camp-loopy-2012
Today I got my yarn from the LOOPY EWE…..  It is Dream in Color Classy – Mailibu Sail.  This is a perfect color for a baby afghan – and especially since I am SORT OF from California!
You might be wondering how someone could be SORT OF FROM CALIFORNIA.    Even though I spent the first 20 years of my life in Missouri (which theoretically may mean that I am from Kansas City, MO) – I also spent an equal amount of time –  20 years of my life – in California…..so WHERE AM I FROM?  HM…..a little bit of everywhere.   *For the record I have lived in Missouri, Kansas, Colorado, Wisconsin, Georgia, Washington, California, and Virginia…..so I really am from a little bit of everywhere!
Back to my yarn for the baby blanket….. here it is.
I love my CAMP LOOPY BADGE and am looking forward to starting my first project May 27th!  I am making the same baby afghan that Judy Laquidara is making.    I chose this because I have a goal to make GREAT-GRANDANGEL baby blankets for my future angels….and since I have 17 grandangels  I need to get started NOW making GREAT GRANDANGEL baby blankets/afghans/quilts!
Here is the CAMP LOOPY CHALLENGE for the first project – we have to choose a pattern designed by someone who is not from our country!  I am making the same baby blanket as Judy Laquidara is (for her first grandchild)  and I have borrowed Judy Laquidara's picture of the baby blanket…….
The Designer is……….Ingrid Aartun Bøe
Tomorrow I will wind the shanks into balls and then I will be ready to get started on May 27!
Have you heard the expression that GOOD THINGS happen in THREES?    Well, I had three happy things happen today.
When I got home tonight I found the LOOPY EWE YARN in my mailbox….so that was ONE HAPPY THING!
ALSO IN MY MAILBOX WAS THIS!
I won this Quiltmaker's 100 Blocks VOl 5  from Judy Laquidara.  HERE IS A BIG THANK YOU!!!  I am going to take it to bed with me and dream about future creations!
This is a 2nd HAPPY THING.
My 3rd HAPPY THING is this….  my friend Catherine made this for me….in my COLORS!!!  It  can be a multitude of things….a cozy, a coaster……….or……
…..a thread catcher.  I simply adore it….isn't it cute?  THANK YOU CATHERINE.  I have been wanting and needing a thread catcher for the longest time and this one is PERFECT!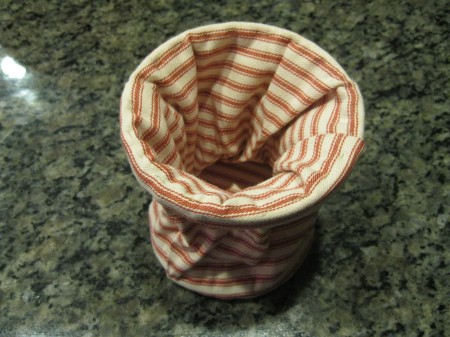 Actually there is ONE MORE HAPPY THING about today…..I got this picture from my grandangels who are on a camping trip this weekend…… ……I just had to slip in one grandangel commercial…..LOL!  
Have a happy weekend and I hope that everyone has THREE HAPPY THINGS HAPPEN this weekend…..make that four!