Posted By drsao on May 19, 2012
I went out to visit the local neighborhood yard sales this morning.  I was looking for tennis rackets for my DD.  I found TWO but both needed to be restrung – so I left them for someone else.    I did not go looking for this but I came home with an antique GLASS  BATTERY JAR……no kidding.  AN ANTIQUE BATTERY JAR!
Speaking of antiques, I forgot to share the antique wooden tray that my son, Rob, and DIL, Lil, gave me for Mother's Day.  It is just PERFECT for holding my Scrappy Grandmother's Flower Garden HEXIE PROJECT IN!  OK….so back to my battery jar…..
The previous owner said it was a battery jar from an early MODEL-T FORD and that I should not drop it……LOL.  He said that it was over 100 years old………..I wondered why he was selling it for $10.00.  I don't REMEMBER the MODEL T, mind you – but I found a picture in case you are wondering what it looked like.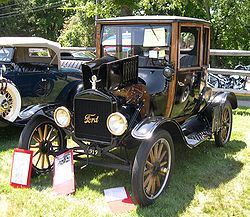 Did it have a GLASS BATTERY CASE?  I have no idea.  The gentleman who sold it to me did not appear to be OLD ENOUGH to have had a Model T – but he seemed to BELIEVE that the battery case that I bought was from a Model T Ford!  I have searched and searched on the internet but cannot find the answer…..so if you know…..PLEASE tell me!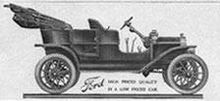 I actually walked away from it when I first saw it – but then later I went back.  You know how it is when something will not GET OUT OF YOUR HEAD!!!?? So…..I got it and came home to GOOGLE my find.  :)  Could it REALLY be from a Model-T Ford……..I didn't REALLY think so…..but……
I did find one JUST LIKE THE ONE THAT I BOUGHT on E-Bay for $100.00.  I put the E-Bay picture below.   AND….just for fun, I included a little COPY AND PASTE history of Glass Jars just for your reading pleasure.
WHAT WILL I DO WITH MINE?  I can envision all of my leftover yarns rolled into colorful little balls filling it!
….here is a COPY AND PASTE Googled about .. The Battery Jar
 http://www.antiquebottles-glass.com/battery-jars/
(Before this morning, I didn't even KNOW that there used to be BATTERY JARS!  I love it when I learn something new!!!!)
Battery jars are simply a straight sided round or square glass jar which was used to house a conductive solution of either acid or copper sulfate. Several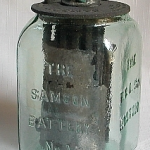 Samson Jar
different technologies emerged in the 19th century, the most significant of which were (at least from the perspective of the battery jar enthusiast):
The Planté lead-acid cell of 1859
The Gravity cell in the 1860s (often referred to as a crow's foot jar)
The Leclanché cell in 1866.
Although Thomas Edison patented the solid nickel-iron battery in 1903, there are many Edison wet cell jars in existence as well as Edison battery oil jars. See the Wikipedia page on battery history for more information.
Value of Glass Battery Jars
We are not entirely sure of the nature of the demand – it is probably a combination of collectors who specialize in battery jars as well as enthusiasts of 19th century history and re-enactments. We found some discussion online of battery jars and their use in telegraph (Morse Code). See the figure below showing Civil War re-enactor Robert Feeney with his functional telegraph station complete with two wet cells in battery jars.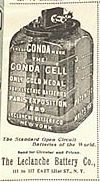 Gonda / Leclanche Battery ad from 1896
Check battery jars for sale on ebay
As with all glass items, condition is of utmost importance. Damage in the form of chips or cracks greatly hurts value. Battery jar value also depends on related parts – if you have the lid and "guts" they are far more desirable. It is also important that any metal parts be free of corrosion – if the interior parts are corroded, then adjust your value accordingly.
We have noticed auction prices on ebay mostly between $20 and $60. The large rectangular 20th century jars are often worth in the $20-30 range and earlier 19th century examples can reach beyond $100 if in exceptionally good shape. A Gravity cell with both interior electrodes in remarkable unused (like new) condition recently brought $230 on ebay
(June 2010).