Posted By drsao on July 29, 2012
When I miss attending one of my favorite group  gatherings, I always WONDER what I missed.    I know I miss a lot, since we always have lots of sharing,  caring, discovery, adventure, sewing, and laughter when I am there!  So in case you are wondering – here is what YOU MISSED on Saturday……
We are such a warm, inviting, and friendly group that we even managed to have a BENCH outside the church for our newest member, Bonnie Tucker, to enjoy.  She did.    LOOK!
She spotted this bench immediately!  As everyone began yelling for me grab my camera, Bonnie enthusiastically FLEW toward the bench!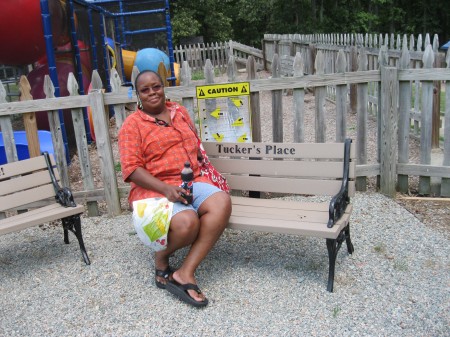 I had to get a close up so you could see her happy face better!
This section is ENTITLED – WHO HAS THE COOLEST SHOW AND TELL?!
 Who gets your vote….is it Vonnie who has a beautiful diamond engagement ring?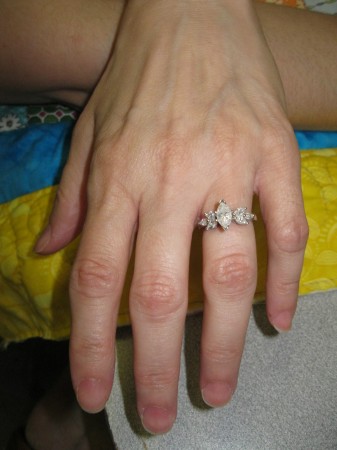 Is it Bonnie who has the most incredible – wonderful – beautiful – amazing SEWING WAGON (aka Gardening Wagon) on the face of this earth?  CAN YOU TELL THAT I LOVE THIS!!!  Now, I am not trying to bias the vote away from Vonnie's diamond ring, it is just that this SEWING WAGON got me excited!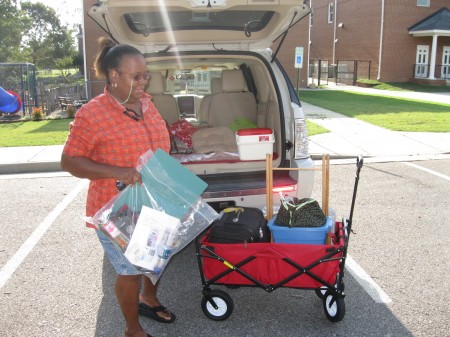 Or was it Carol's new Singer 301 Sewing Machine that she bought from Linda (and how in the world did Linda escape without being in a picture – that is a mystery to me!!!!!)
OK – so I guess my QUILT SHOW AND TELL can be in the contest too.   I am proud to say that I finished the binding on my grandangel, Jannae's ART QUILT.  She is 8 years old now but she did the crayola artwork when she was 5 and 6 years old.  She will get the quilt this summer – FINALLY!  
(And yes, you are not imagining it – my hair is ACTUALLY a bit green on top….you see I was in the COLOR ME RAD 5K  a week ago and I still can't get the paint out of my hair!)
But, just for the record, it WAS even worse right after the race!  I am just thankful that the paint came off my face!  My clothes started out all white – and so did my hair!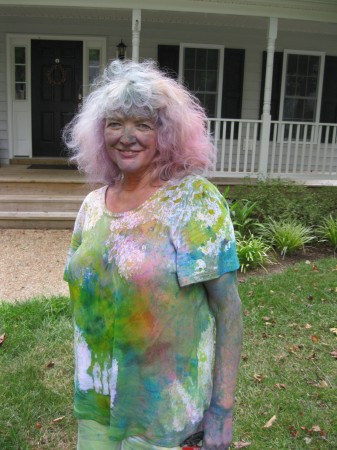 I thought you might enjoy some of the other sights and goings on at our meeting – I hope you enjoy the pictures!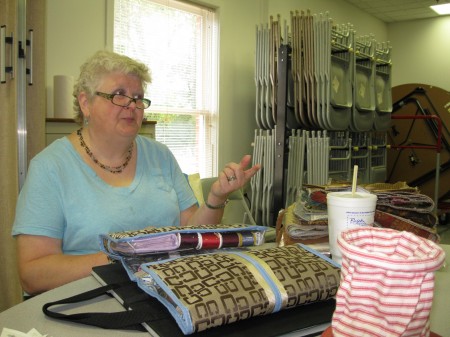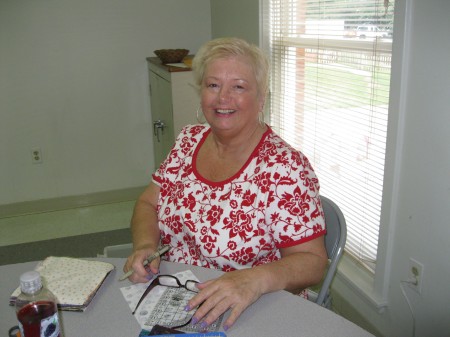 I wish that I would have taken a picture of Patsy's picture of her Harley – it is really cool.  Maybe we should all get Harley's and create the first ever HARLEY QUILTING GROUP?
OK,  so let me tell you about the DISCOVERY PART of the meeting.  You will not believe this – but I discovered that I needed READERS….as in MAGNIFYING GLASSES for use when doing close work. Goodness – how did I not know this!  I am 68 years old – you would think that someone – like my optometrist – would have told me (or maybe most people just figure this out on their own without being told!) After trying on Catherine's and Bonnie's glasses, I found out that I needed glasses with 1.25 correction –  and so after the meeting I headed for the DOLLAR TREE and got my  glasses!  I not only see better, but I think these glasses make me look rather studious!  Now I just have to find some cute colorful ones so I can match whatever I am wearing.  LOL.  I just realized that I always wear black!  :)