Posted By drsao on January 21, 2013
How fast these weeks go by….I can hardly believe that January is MORE THAN 1/2 over and Obama is being inaugurated today (it seems like ONLY YESTERDAY that we were hearing debate speeches and preparing for Christmas!!!)
It is also Grandangel Jannae's 9th birthday……..what a day to celebrate!
Since we have had a SCHOOL VACATION ala SNOW DAY on Friday, I managed to get in a bit of sewing.  While I got a lot done, there are so many things to do……so little time, so many quilts….LOL
Here is what is on my DESIGN FLOOR for this week.
The Easy Street Quiltville Mystery needs borders….I will put on a dark purple 2 1/2″ inner border and then a 6″ lavendar outer border.  I love the quilt pattern – Bonnie Hunter's design is wonderful; however I am not fond of the colors.  I don't plan to keep it though, so it doesn't really matter, right?
And my Christmas Easy Street also needs borders….I just can't quite decide what to do yet.  I am thinking about a red inner border and then a piano key multi-colored border?????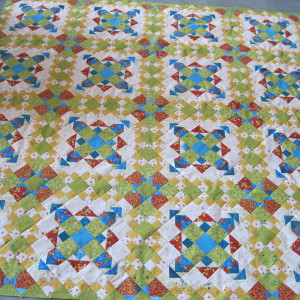 Finally I need to make a back for Nanna's Surprise – the Quilter's Club of America Mystery.  My  cat, Cuddles, REALLY LIKES this quilt!!!  I am thinking that I will use more of the Moda Holly Jolly fabric for the back….my favorite back is to cut 12 1/2″ squares and sew them together…but we will see how my creative juices flow!
Dare I get ambitious and say that I also plan to get bindings sewn on two quilts…….???  Maybe not….:)
To see what other quilter's have on their design walls check out Judy LaQuidara's blog at Patchworktimes.com
http://www.patchworktimes.com/2013/01/21/design-wall-monday-january-21-2013/