Posted By drsao on January 28, 2013
It is that time again – DESIGN WALL Monday.    I am still working on my Bonnie Hunter Quiltville Mystery – and I am calling this SECOND one CHRISTMAS EASY STREET because I am using MODA HOLLY JOLLY fabric.
Right now I am cutting 12 1/2″ squares for the back….I need 81 and then maybe a MILLION more piano keys along one side and then enough  for across the top……so that is going to take awhile because the back needs to measure 108″ x 108″!   BUT it is worth it because….I love love love scrappy backs.  I figure ANYONE can make a plain back…..scrappy ones are special  (I learned that from my friend Catherine…the ANYONE CAN DO THAT part.)  
Don't get me wrong, I actually don't think there is anything wrong with an all one fabric back and I  do make some like this – it is just that Bonnie Hunter got me started on the SCRAPPY BACK idea and they just plain make me smile.  SO – anything that triggers that "PURPLE PASSION" button and makes us smile is a good thing – right?
Here is my PROGRESS REPORT from this week!  Here is my EASY STREET with two borders.  The inner one is purple and the outer border is lavender.

Here is the back for Easy Street.  It is SEMI Scrappy – at least it isn't all one color!
And for fun, I made a few blocks for the SCRAPPY AROUND THE WORLD Quilt….a Bonnie Hunter inspired project…..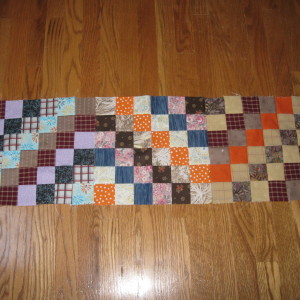 TIME OUT FOR A GRANDANGEL COMMERCIAL…..
It was busy but fun week – we got to observe WATCH WEEK at Swift Creek Academy of the Performing Arts.  That means visitors can watch the class in session.  I got to see Grandangel Cooper turn a cartwheel….let me tell you, this was very exciting.  That is something that I never COULD DO…..and I secretly would still like to learn to do it!  How old does one have to be before it is too late to try to turn a cartwheel?  I can't do it now because I have FROZEN SHOULDER (rotator cuff injury) but as soon as I am healed I just might try it.  I just don't want to cause an injury to my sewing arm….LOL.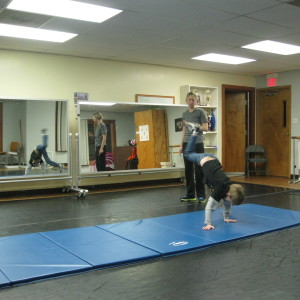 Grandangel Sarah had some good HIP HOP MOVES!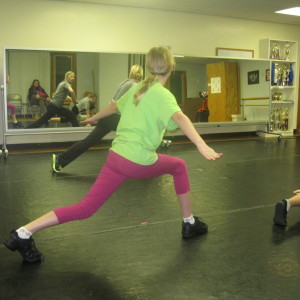 The SNOW was a big EXCITING EVENT and cut into my quilting time last week……here is Grandangel Cooper enjoying the snow.  We had a 2 hour early release from school on Friday and the kids were so excited.  I was teaching 2nd grade and it was such a joyful experience to see how HAPPY those kids were about SNOW and GETTING OUT EARLY.    Earlier I had taught the children a SNOW DANCE and when it started to snow and  school was dismissed two hours early, one child said, "Mrs. Owens, your snow dance really works fast!!!!"    If only we could ALL retain that kind of excitement over the little things in life!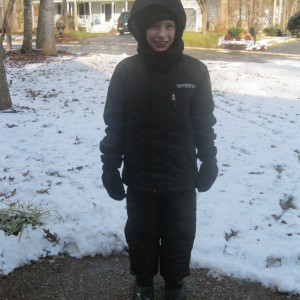 Grandangel Sarah is getting ready to WRITE IN THE SNOW with a SNOW MARKER….what will they think of next?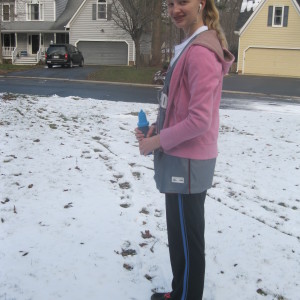 Grandangel Sarah had a great basketball game on Saturday too….she made half of her team's points.  It was VERY EXCITING….that is her dribbling the ball.  These games are real nail biters!  Let me tell you, these girls are tough too.  They often end up on the floor "wrestling" for possesion of the ball!  :)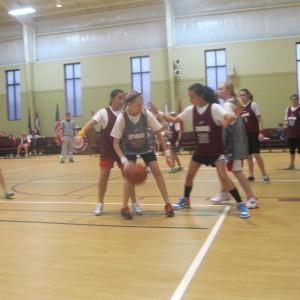 OK – the Grandangel commercial is over and NOW  back to my DESIGN FLOOR….  I got the piano key border on my Christmas Easy Street (this is my second Easy Street Mystery quilt.)      I had a difficult time deciding what kind of border to put on….so I put on two 2 1/2″ borders (teal and red) and then added the piano keys.  I wasn't as thrilled with my borders as I thought that I would be…..but I imagine I will love it when I see it quilted and completed.   Maybe it is just the fact that green is one of my least favorite colors???   And now I am working on the back….remember those 81 12 1/2″ squares that I said that I needed?   MAYBE I will finally deplete my MODA HOLLY JOLLY Stash.  I must have REALLY LIKED THAT FABRIC because I sure bought a lot of it several years ago!
To see what other quilters are doing this week – hop on over to Judy Laquidara's blog at Patchwork Times!
http://www.patchworktimes.com/2013/01/28/design-wall-january-28-2013/