Posted By drsao on January 1, 2016
Since it is January 1, 2016, the time is just right for resolutions. I am thinking that I would like to finish some of my UFO's (UNFINISHED OBJECTS – AKA UNFINISHED QUILTS IN PROGRESS). So to make things easier, I made a list. (OK I did cheat a little bit because I do have a few more that are not on the list because I changed their category from UFO to "ABANDONED FOR NOW.")  After looking over this list, it is once again apparent to me that I am a true Bonnie Hunter fan.  Almost everything on this list is a Bonnie Hunter design!
So for now, here are the UFO's that made the list!
1     ALBERTSON PING PONG BALLS – this is actually Bonnie K. Hunter's Bow Tie Challenge (see Quiltville.com if you would like to add this UFO to YOUR LIST!)  I made this with clothing that belonged to my parents – so it is a "MEMORY QUILT" and called ping pong balls because I come from a family of AVID ping pong players – and we often used ping pong balls the same color as the cheddar fabric!  When this is finished, it will belong to my son, Rob Johnson.  I feel pretty sure that this will get finished because it only needs the binding sewn on.
2     SCRAPPY GRANDMOTHER'S FLOWER GARDEN is my hexie project – but even though I like it, it has been on my UFO list for a couple of years.  I am going to make an effort to make progress on it this year!  I already have a stack of these flowers made so I just need to put it all together.
3     CATHERINE'S BASKETS has been a UFO for awhile now and I really should finish it – all of the blocks are made and it is a mostly red  quilt – which I really love.  It is named Catherine's Baskets because my friend,  Catherine,  cut out the baskets with her special die!  I think the hang up for me on this one is that I don't know how to put it together.
4     TALKING TURKEY is a Bonnie K. Hunter design – all read and white – and I love it.  The problem is that I do not like to bind and that is the only thing that I have left to do on it!  SO I AM MAKING THE COMMITMENT – I WILL GET THIS ONE DONE in 2016!  I put a photo of THE BONNIE and me here too –  as inspiration.  (This was taken at her Talking Turkey Workshop in April 2014 in Williamsburg, VA.)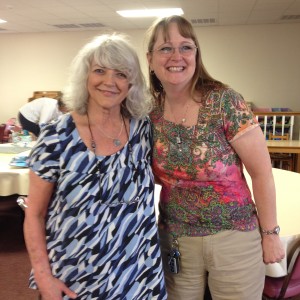 5     STRATA STAR – this was started at Quilt Camp more than two years ago – and I just have to figure out how to quilt it.  
6     STRIPPY HIDDEN STARS – another one that only needs binding……….  I made up this pattern.
7     WILD AND GOOSEY – another fun Bonnie Hunter pattern.  It is addictive to work on – I just got involved in too many other projects so it sits alone in a project box for now!
8     DON'T BE GOOSEY – is another WILD AND GOOSEY Bonnie Hunter pattern made using my parents' clothing.  It is a memory quilt in progress.  My daddy used to say "Don't be goosey" all of the time – so it seemed like a perfect name for a memory quilt.
9     ALBERTSON TUMBLERS – is another one of Bonnie's Challenge Quilts (Tumblers to be made as leaders and enders) and I decided to do this challenge and used fabrics from my parents' clothing. The top is close to being finished.
10     ALBERTSON LOZENGES – is another of Bonnie's Challenge Quilts that I am making using my parents' clothing….another memory quilt.  UNFORTUNATELY I HAVEN'T TAKEN A PHOTO OF THIS ONE YET!
11     ALBERTSON LOVE – yes – you guessed it – is another Bonnie Hunter design – basket weave that I made using my parents' clothing.  It is a memory quilt in progress.
12 and 13     BIG SISTER – LITTLE SISTER FAIR AND SQUARE – are gifts for my new little niece, Elliott (who will be born in March) and her big sister, Camryn.  The back is minkee.  I can't wait to give this to them!
I doubt if they would be reading my blog – but this is a surprise for both their mother and father – so I won't post a photo here now.
14 and 15     ALLIETARE and CHRISTMAS ALLIETARE is Bonnie's Quiltville Mystery 2015 and here are the first four blocks of each of these quilts.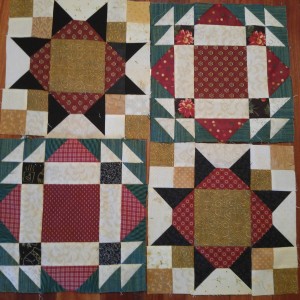 16  CHRISTMAS BOXY STARS  is a Bonnie Hunter Boxy Stars Design made with my parents' clothing.  It is a memory quilt for my nephew Andrew Albertson.  The top is finished but I need to make a back and get it quilted!
17 and 18 ALBERTSON STRING STARS 1 and ALBERTSON STRING STAR 2 – as far as I know, I made up this block – and I am not sure how I will set it together.  These will be two more memory quilts made from my parents' clothing.
19    CHRISTMAS GRAND ILLUSION is my second Bonnie Huntery Quiltville Mystery 2014 – everything is made, it just needs to be sewn together.