Posted By drsao on January 4, 2016
The big reveal came New Year's Eve – and boy did Bonnie K. Hunter make a lot of people all of the world VERY HAPPY. Not only did we get to see how all of our pieces were going to fit together, but we got to be VERY happy because the finished quilt is a wonderful design!
To see what the finished quilt looks like, go to Bonnie Hunter's blog – just click the link below!
http://quiltville.blogspot.com/2015/12/allietare-part-6-reveal.html
Since I am making two, I am not as far along (FINISHED) as some people are (YES SOME PEOPLE ARE FINISHED!!!!!) – but I have all of the blocks kitted and about half of them made – so stay tuned for my big reveal later!
Here is my progress so far!
AND TADA – here are the first four blocks of each of my CHRISTMAS ALLIETARE and my ALLIETARE QUILTS!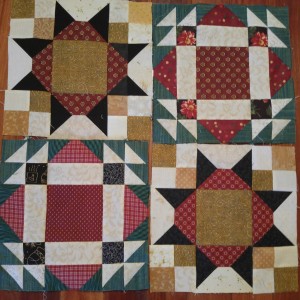 To see what all of the fun color combinations of the Allietare Quilts made by people all over the world, click on the link  below!
http://quiltville.blogspot.com/2016/01/mystery-monday-link-up-reveal.html