Posted By drsao on August 14, 2016
In 2007 I finished 17 quilts and I finished 19 quilts in 2008 . In 2009 I must have been completely crazy – it appears I made 34 quilts in 2009.
I slowed down a little and ONLY made 27 in 2010 and in 2011 I also made 27 quilts and many other projects!
In 2012 I made 18 quilts; however  in both 2013  and 2014 I only made 4 quilts each year.  I spent a lot of time in Kansas City with my daddy during his last year and the following year I was just too sad to do much sewing.
SAO QUILTS COMPLETED in 2013
#1     CURVED LOG CABIN (72 x 83)  was a friend of Augusta Cole's pattern and the quilt was quilted by Karen Murray.
#2         CAROLINA CROSSROADS II   was the second of Bonnie K Hunter's very first Quiltville Mystery Quilts (92 x 105).  I had to make a second one in a larger size.  I have always thought that this was my favorite mystery!  It was quilted by Karen Murray
#3     CHRISTMAS MYSTERY 2011 was designed by Dorothy Young – and she also named this Jeanne's Diamonds.  I6 measures 62 x 62 and was quilted by Sara Parrish.  This was gifted to my nephew and his wife, Jordan and Lindsay Owens, as a wedding gift.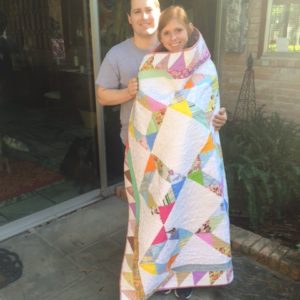 #4     Nanna's Surprise was  Quilter's Club of America Mystery (56 X 60) quilted by Sara Parrish.  My daughter saw the photo that I posted after finishing it at Augusta Cole's retreat.  She  claimed it and of course I said yes!