Posted By drsao on August 14, 2016
In 2007 I finished 17 quilts and I finished 19 quilts in 2008 . In 2009 I must have been completely crazy – it appears I made 34 quilts in 2009.
I slowed down a little and ONLY made 27 in 2010 and in 2011 I also made 27 quilts and many other projects!
In 2012 I made 18 quilts; however  in both 2013  and 2014 I only made 4 quilts each year.  I spent a lot of time in Kansas City with my daddy during his last year and the following year I was just too sad to do much sewing.
#1     Something Halloweeny was designed by me (although I think there isn't anything very creative about a bunch of squares and sashing!)  Karen Murray did the quilting and the back is ORANGE MINKEE – it is 57 x 69.5 and this cozy quilt comes out every year at my house during the fall season!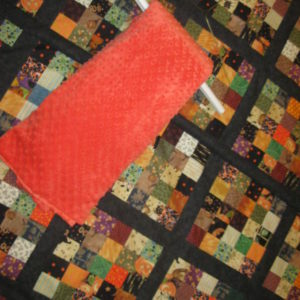 #2 and #3 are My EASY STREET and CHRISTMAS EASY STREET – 2 of Bonnie K Hunter's 2012 Quiltville Mysteries.  It measures 108 x 108,  The Christmas Easy Street was quilted by A Needle Runs Through It ($242.91) and the Easy Street was quilted by Karen Murray $216.40.  I thought the two prices for quilting was interesting given that they were the SAME QUILT doubled!  Pictured below is my Christmas Easy Street – the Easy Street Quilt was made in pinks and purples and I HAVE LOST IT!
#4     Wonky Trails was another of my original designs with 4 1/2 inch strippy blocks!  My CA daughter, Jan Owens Stark, has this one!  (65.6 x 79.5 quilted by Sara Parrish.)