Posted By drsao on December 26, 2016
I am having lots of fun making Bonnie K Hunter's 2016 Quiltville Mystery Quilt – En Provence this year.  My second one is being called L'Orange EnProvence (because it has some orange fabric in it.)
I have been making Bonnie's mysteries since her VERY FIRST ONE – Carolina Crossroads!  I liked it SO MUCH that I made two!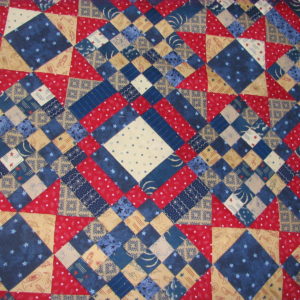 I have continued to make two of Bonnie's mysteries each year – with the idea that I could give one away and keep one.  As it turns out I love her quilt designs so much that I have ended up gifting most of them – they are that special!  I only want to give away quilts that are SPECIAL!
This year I am making two again – En Provence and L'Orange En Provence…..and here are my first five parts!
To see what others are doing – visit Bonnie K Hunter's blogspot!
http://quiltville.blogspot.com/2016/12/mystery-monday-link-up-part-5.html