Posted By drsao on August 24, 2013
Catherine and I had our annual SEW SEW DAYS – last Tuesday and Wednesday.   Those days were full of laughter, fun, tears (we went to see THE BUTLER), eating, sewing, shopping, doing my annual home renovation while my kids were gone on vacation, and of course we took pictures.
After looking at the pictures I think most of our time was taken up taking pictures of Oreo, Hannah, and Ruby (cat, cat, dog)….LOL.
So here we go with the picture proof of the fun….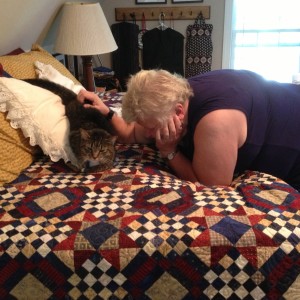 Hannah was actually born in Catherine's house before she came to live with me!
It is a yearly tradition – every time my kids and grandangels go on vacation, I do something to the house and Catherine helps!  This year we made some flower arrangements!
And the big thing – Catherine arranged flowers and a CHICKEN in an antique vessel…..and she staged a wonderful front porch scenario!  Catherine has so many special talents – and staging is only one of the things that she wows me with!  The throw on the rocking chair is from my cousin, Janie, a centennial celebration of my dad's hometown – Green City, Missiouri!
It was lots of fun….as it always is when  Catherine and I have our Sew Sew Days!