Posted By drsao on August 24, 2013
Today we celebrated friendships and SHOW AND TELL with quilting friends…..Virginia Scrappers!  We had a wonderful time and it got pretty lively when Patsy shared that Tim Holtz fabrics were at JoAnn's and there was a 40% off sale.  Well, as you can imagine, there was a little field trip today.  Catherine and I went to both JoAnn'S and Quilter's Corner!
Here are some photos to represent our fun and fortune!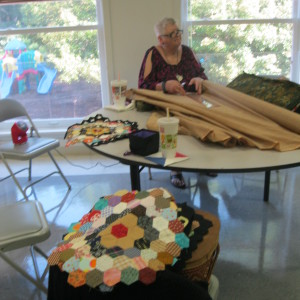 I am still plugging away on my Scrappy Grandmother's Flower Garden Quilt – boy does this take FOREVER but it is a nice project to carry – I keep it in a picnic basket in the trunk of my car.  Have quilt  – will travel!
These were ICED DYED!  WOW!
As you can see, we had LOTS of show and tell today….and there's more!
We are all IN LOVE with Carmen's Christmas Quilt…..  ADORABLE!
Remember when I said that Tim Holtz Fabric was a BIG DEAL TODAY….well look at Catherine's SHOW AND TELL!  Actually some of this fabric is not TIM HOLTZ – but from Quilter's Corner – but they got MERGED!  LOL
Patsy was busy working on her paper art – beads and pottery!  Amazing. 
Congratulations to Nancy Buckland – her quilt won BEST OF SHOW at the FAIR and to Bonnie Tucker  – her quilt won a First Place. I am so happy for them!!!!!