Posted By drsao on November 18, 2013
What a wonderful retreat we had this past weekend.  What do NONQUILTERS do to renew their minds, spirits, and funny bones!?  Quilters go on retreats!  We had three days of giggles, creativity and gourmet meals served to us on white table cloths with NO DISHES TO DO!  What could be better!
If you don't know me very well, you probably do not know that I am perpetually lost (geographically speaking.)  I NEVER go anywhere without my GPS.  Well, guess whose GPS holder BROKE right before my journey to Urbanna for the retreat!?  So, desperate to make sure that I got to the retreat I filled a cloth bag (repurposed and previously made by Catherine) with soynuts and made a beanbag for my GPS secured to the dash holder with rubber bands…..I AM NOT KIDDING!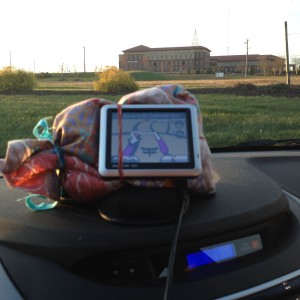 Actually that was my BACKUP because I followed Catherine all of the way – and we made it in record time….do you think we look happy and ready for fun?  We are – and our little red wagons are FULL of fabric, thread, and other mixed media items just awaiting being created into masterpieces….LOL.
The Bethpage Resort Camp is wonderful – we had lots of room, good lighting and great views out the glass windows…….:)
This is where we met to sew!  It is so quaint and cozy!  The weather was PERFECT – blue skies and autumn leaves in abundance!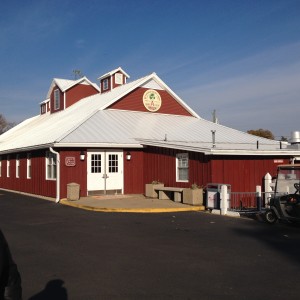 This is Catherine and my work area – you can see how much ROOM we had and how much light!  Did they build this room for quilters?  LOL.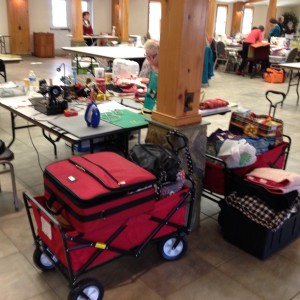 We stepped outside onto the side portch often to view the awesome fall artistry of nature!
Here are some of my informal shots of friends and SHOW AND TELLS that were close enough to me and my camera to get captured!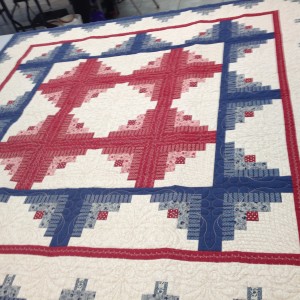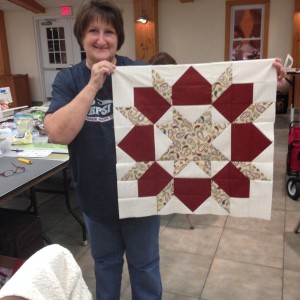 Several of the retreaters made blocks out of the fat quarters that we got last year and there was a drawing on Sunday!  SIX PEOPLE won 12 blocks each and were ENCOURAGED by Augusta to bring their completed quilts back next year!  Below are the LUCKY SIX…..looking forward to seeing those quilts in 2014.  🙂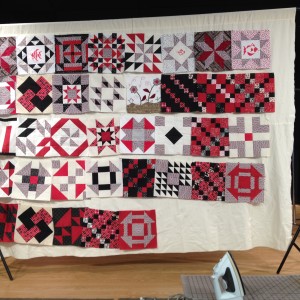 One of these winners (not mentioning any names) claims to have made ONE BLOCK that took her five minutes – and those who made multiple blocks hoping to win joked that SHE would probably be a winner….and she was….:)  Still not mentioning any names but protecting the innocent SHE is not the first two or the last three pictured!  🙂
This year Augusta invited a special guest – Karen – her first quilting teacher.  We have all heard how wonderful Karen was and it was so much fun to meet her in person – and yes, she is indeed wonderful.  We were mesmerized by her hexagon log cabin quilt (and Augusta will be teaching us how to do this in the near future….watch for a class near you – after Karen writes the pattern!)   Karen and Augusta are in autumnal colors!  Isn't that hexie log cabin in scrappy fabrics just pure eye candy?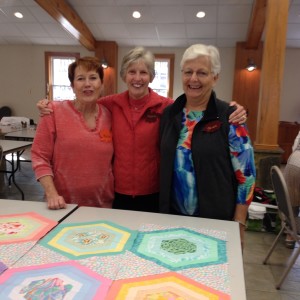 Karen's Hexie Log Cabin inspiration in progress (and by the way I don't know what this will actually be named but I doubt that it will be HEXIE LOG CABIN INSPIRATION!)  🙂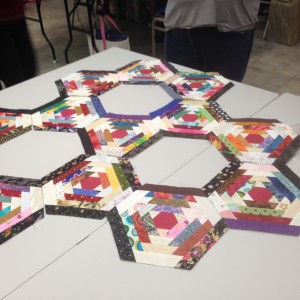 And here are  more pictures of quilters having delightful times for various reasons!  🙂  Some of the photos are of the beautiful quilts or other projects – and some do  not have their people attached!  🙂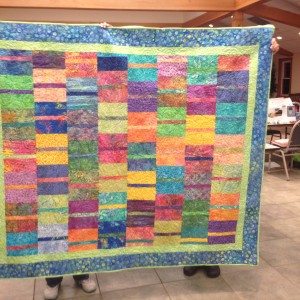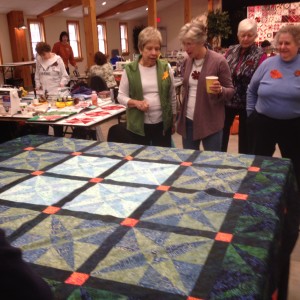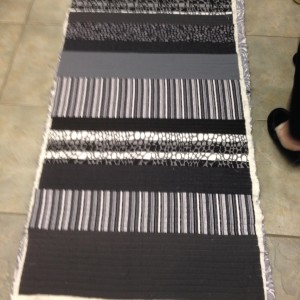 We learned to do FACING INSTEAD OF BINDING….love this!
Catherine had a TON of CREATIVE mixed media works of art (to purchase her works of art you may find them at the ASG Bazaar this Saturday at St. Matthews Church in Richmond.)  I didn't take pictures of lots of her things because they were in process and might be SECRETS only to be revealed on Saturday!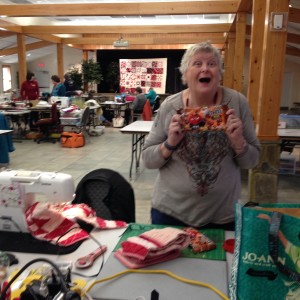 Catherine taught us how to make this flower featured on her bag but her demo was so popular that I couldn't get close enough to get photos of her doing this….but here is the end result!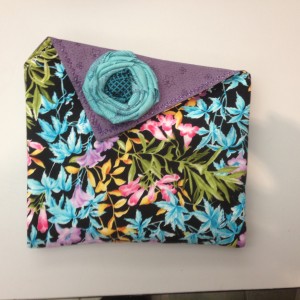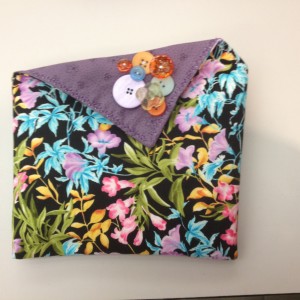 And speaking of bags, we learned to make this  wonderful bag – this was our make and take and we all loved it!  Catherine's (with the buttons and flower) is pictured above!
VOILA….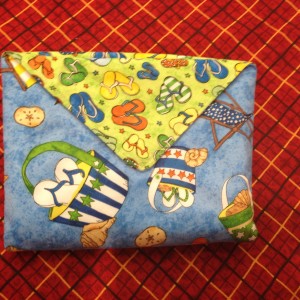 These are my fabrics for the bag and my end product….love it!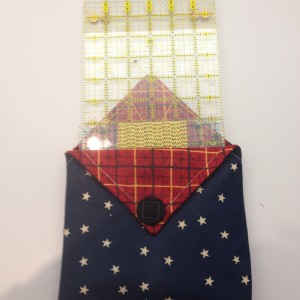 Most of us used batting in our bags, but Catherine used scrumptious red felt!  🙂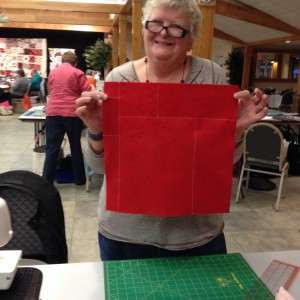 More show and tells and works in progress!  Isn't this inspirational!  Oh the people you meet and the things that you can create……..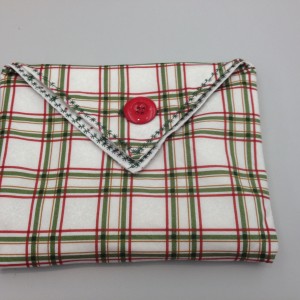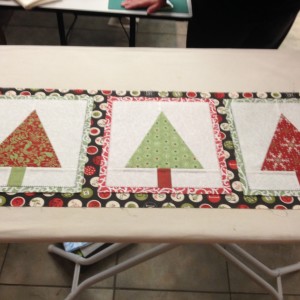 This is another quilt that Augusta will be teaching in the near future……..watch and wait for it – it is going to be a POPULAR CLASS!  Her classes are like Taylor Swift's concerts…..sold out and FULL in a blink!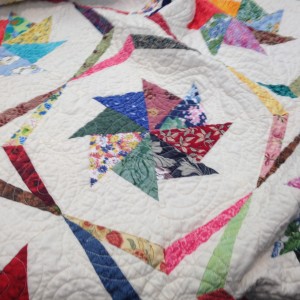 Here is another quilt made from one of Augusta's patterns (which I meant to purchase but got sidetracked – you know how it is, 'if you give a mouse a cookie…..'")  I love this quilt!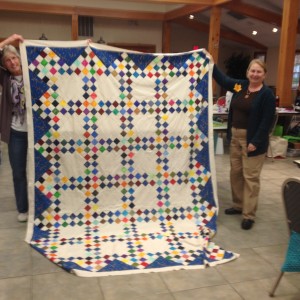 And here are some of MY projects for the retreat!  I got two quilts bound and finished!!!!!!    HAPPY DANCE!  I loved making the 2 1/2″ pseudo jelly roll back – I call it pseudo because I just used my 2 1/2″ strips and parts of strips in my stash.  This one is a Christmas Mystery 2011  "Jeanne's Diamonds" designed by Dorothy Young and quilted by Sara Parrish.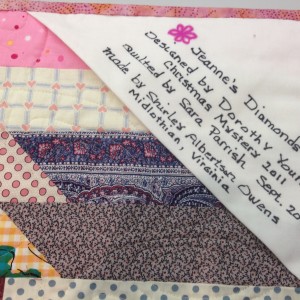 This one is "Nanna's Surprise," a  Quilter's Club of America Mystery made from Holly Jolly Moda fabrics of yesteryear!  It is also quilted by Sara Parrish.
I also worked on a quilt top made from 5″ scraps made into half square triangles. I have named it Strippy Hidden Stars.
I got this idea from Bonnie Hunter (Quiltville.com) who taught us to make flying geese out of scrappy strips (I made a ton of these and might add them as a border to this quilt but I am afraid it might be too busy.)  I also got this idea from Pat Speth who made half square triangles out of scrappy strips.   I think Pat called hers a trash can quilt.  Because I took a class from her she shared a pattern for a trash can quilt but I lost it.  I just remember that she made stars – so mine may be similar to hers!  If I make another one I will think of sonething else to do to highlight the stars because I think they get LOST in the overall pattern!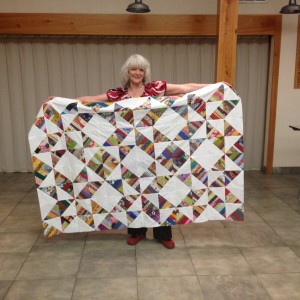 See how the star looks in one block!  I wonder how this would look with sashing?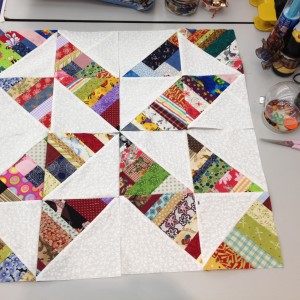 Augusta wanted to see the one that I made from 4 1/2″ strips of scrappy fabrics (many from her annual Cutting Bees that I attend every year – except last year when I was snowed in!)
I made diamonds out of the half square triangles and then made sashing from the 4 1/2″ strips as well.  The first photo is my WONKY TRAILS (I made up this pattern in my very own  head) in progress and the second photo is of the finished top.  (Sara Parrish is quilting it as we speak….maybe!  :))
In case you hadn't noticed, I am PASSIONATE about scrappy quilts!  Here is my Scrappy Grandmother's Flower Garden quilt that I also worked on at the retreat!  Someone recently asked me if I ever made a real quilt out of planned fabric…..LOL…..well, I guess these are my real quilts and I have planned them this way………they make me happy and it is so much fun to make something out of the pieces of my past!  🙂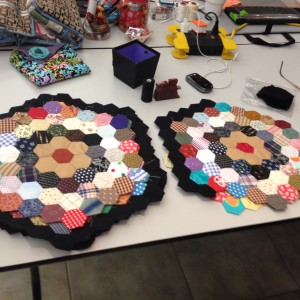 Catherine and I had some fun at the Urbanna flea market before we left town……we left VERY HAPPY!  Thanks for the fun everyone!
So for this year we said our goodbyes….to our cute little cabin trailer #32!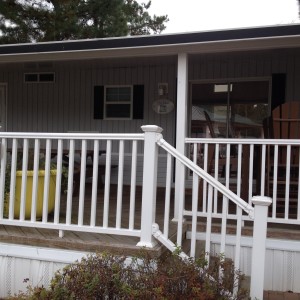 Goodbye and thank you Augusta and Melissa!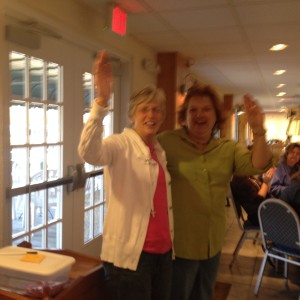 Goodbye Urbanna!  🙂
And goodbye and thank you to everyone from Catherine and sao (aka Shirley.)