Posted By drsao on November 18, 2013
Quilters all over the world (literally) are filling their bobbins, fondling their fabrics and gearing up for the  Bonnie K. Hunter Winter Mystery 2013.
It begins November 29 and clues may be found each Friday on Bonnie's Blog at www.quiltville.com.  The clues will be given for 6 to 8 weeks….and then VOILA, the big reveal!
We already know that we need four  fabrics plus a neutral and for the first time Bonnie will be giving clues for a smaller (75 x 75)  as well as a king sized  (111 x 111) quilt.
I have finally chosen my fabrics for one of them (I usually make two but am not sure my schedule will allow that this time – but we will see!)  My colors are Red, Brown, Dark Blue, Gold and my neutrals are Beige.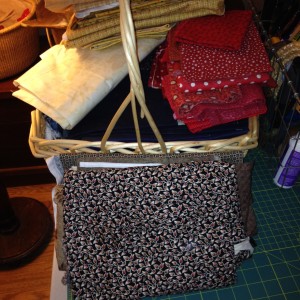 Bonnie's colors are influenced by the flag of Ireland and her recent quilting cruise to Ireland.  Bonnie's colors are below (I got this from Bonnie's blog.):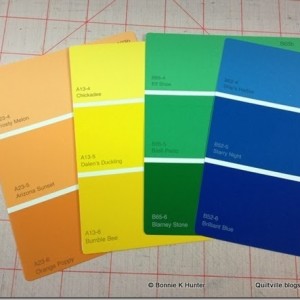 Here is the way I understand it – this is the yardage that I will need for the small 75 x 75 quilt
NEUTRAL – 2 yards
GOLD – 1 1/2 yards
RUST – 2 1/4 yards (I am using red instead)
GREEN – 2 yards (I am using brown instead)
BLUE – 2 1/4 yards 
If I do make a second quilt I will make it Christmas colors, Red, Green, Gold, and Blue with White as a background.
I have made all of Bonnie's Mystery Quilts – how many of you have also?
Who else is playing?  It is free and lots of fun!